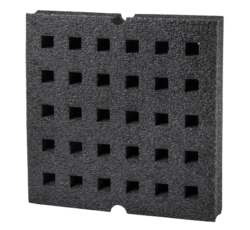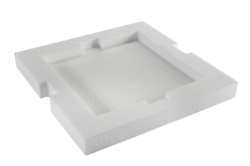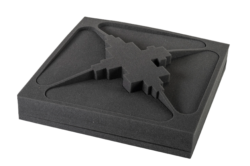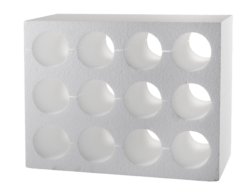 Polyurethane Foam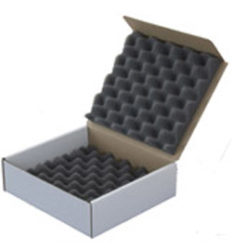 Polyurethane is an "open cell" foam which offers excellent resilience and durability. It is easily fabricated for many general industrial and commercial applications. Urethane foams are readily available in a wide range of densities and colors. This, combined with its cushioning, moisture absorption, and sound dampening capabilities, make them extremely versatile.
A few examples of polyurethane foam applications include: athletic equipment, filtration, insulation, gasketing and special packaging for the electronics, appliance, cosmetic, and instrumentation markets. Also, with a fire retardant additive, it is a natural for the children's toy market.
---
Polystyrene Foam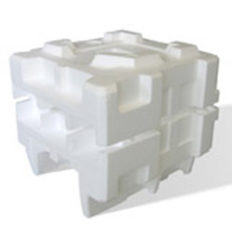 Expanded polystyrene foam, made from small "beads", can be custom molded to specific sizes and shapes. It can also be made into "boards" of different lengths and thicknesses used in the fabrication of smaller sized parts. However, custom molding is generally reserved for larger quantities with more demand for precision.
Polystyrene foam offers high compressive strength in a full range of densities. Its ease of fabrication makes it ideal for platforms, displays, inner package support, cushioning and corner pads.
The molding capabilities are limitless, and some current applications include platforms, trays and packaging in the fields of electronics, appliances, photography, toys, medical devices, machine parts, and office equipment.
---
Polyethylene Foam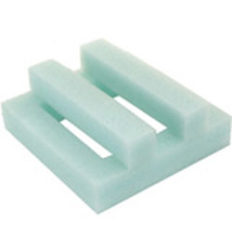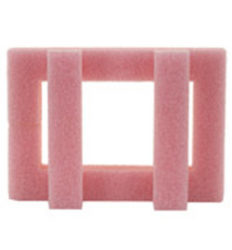 Polyethylene is a "closed cell" foam featuring superb durability, shock absorption and abrasion resistance characteristics. In addition, it is odorless, buoyant, and does not absorb liquids.
These characteristics make it particularly effective for recreational/athletic equipment, as well as water sport and flotation equipment. Being resistant to most solvents and chemicals gives it a natural advantage in agricultural, construction, and industrial applications.
The fact that polyethylene foam lends itself to cutting and shaping, and will not fracture under stress, has given it wide acceptance in nearly every concept of protective packaging.