Corrugated plastic, or corriboard, refers to extruded twin-wall plastic-sheet products typically made from high-impact polypropylene resin. This lightweight, weather-resistant material is used for constructing plastic containers and reusable packaging as well as signage for construction, real estate, political, and promotional uses. Corrugated plastic can be easily cut with a utility knife and is available in a wide range of colors and thicknesses to suit various needs.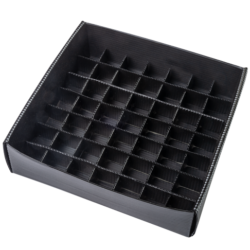 Types
 of Corrugated Plastic
There are four primary types of corrugated plastic, each with its own advantages for use in different applications. These types include:
Profile Board

. Profile board offers a rigid, yet lightweight material that can be customized to various weights and thicknesses. 

Double-Face

. Double-face corrugated plastic is made of two flat layers with a layer of fluting in the middle. It's durable and commonly used for totes and trays.

Single-Face

. More flexible than its double-face counterpart, single-face corrugated plastic is good for separating components. It can be more easily manipulated to fit around objects within a space.

Honeycomb

. Honeycomb corrugated plastic is extremely rigid and can be extruded in multiple weights and thicknesses. This material is commonly used for layer pads and pallet sleeves.
Advantages of Corrugated Plastic
There are many reasons why people turn to corrugated plastic for signage, packaging, and other needs. Key advantages of corrugated plastic include: 
Durable.

Corrugated plastic is designed to withstand a wide variety of environmental conditions, providing a signage or packaging solution that lasts a long time before it requires replacement.

Hygienic and Safe

. Corrugated plastic is made from polypropylene, which does not contain BPA. This means it can withstand extreme temperatures without releasing harmful chemicals. It is also non-toxic to humans and animals. 

Lightweight and Flexible

. Corrugated plastic is lightweight, making it easy to lift, store, transport, assemble, and set up. It is also extremely versatile, available in various colors, sizes, and thicknesses.

Weatherproof.

With a neutral pH factor, corrugated plastic is resistant to chemicals, moisture, and challenging weather conditions. It can also withstand most oils and solvents.

Cost-Effective.

Corrugated plastic is a cost-effective material to produce and purchase, meaning that when it's time to replace it, you can easily buy as much as your budget allows. 

Customizable.

There are many types of corrugated plastic, each of which can be customized based on color and thickness requirements. It can also be shaped, folded, and cut to the size you need for your application.
Common Corrugated Plastic Industry Applications
Corrugated plastic is a go-to material for companies in a wide range of industries, including agriculture, signage, graphic arts, automotive, and packaging. These industries rely on its durability, cost-effectiveness, and weather resistance for all sorts of applications, including:
Commercial, Real Estate, Political, and Other Signage

. Corrugated plastic is easy to print on and can withstand adverse weather conditions.

Containers and Boxes for Storage

. Corrugated plastic offers a durable, customizable option for storage containers and boxes.

Reusable Packaging

. Durable and recyclable, corrugated plastic packaging can be used again and again to help both the company and the consumer save money and leave a lower carbon footprint. 
Corrugated Plastic from Deluxe Packaging
The customization options for corrugated plastic go beyond size and thickness. At Deluxe Packaging, we can modify your plastics with additives to better meet the demands of specific applications. These additives are melt-blended into the sheet to provide ultraviolet protection, anti-static properties, flame retardancy, custom colors, corrosion resistance, static dissipation, and more. 
Since 1982, Deluxe Packaging has been your trusted partner in packaging. With stock and custom options, we're here to create cost-effective solutions with a wide range of products, including folding cartons, corrugated tubes and boxes, POP displays, adhesives, packaging materials, and more. Our products are all 100% recyclable, and our team has years of industry experience and a commitment to customer satisfaction. Contact us today to learn more about our corrugated plastic capabilities.