Custom cases from Deluxe Packaging are engineered to meet your exact specifications. Our diversified manufacturing facilities and resources allow us to provide unique case solutions for your needs. From the simplest to the most complex requirements, we can solve your needs for the protection, organization, and presentation of your products and equipment.
To help design custom packaging solutions that meet your requirements, we offer custom case foam inserts and various types of customizable cases.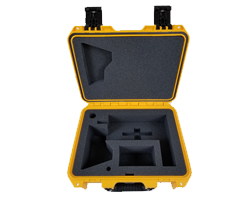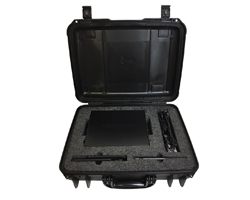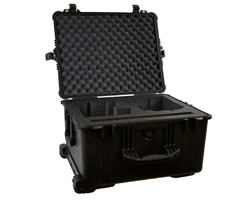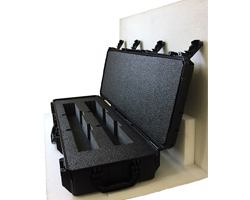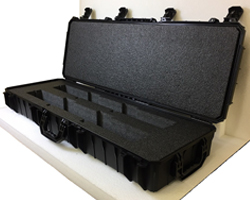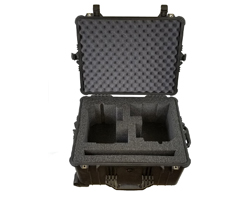 Custom Foam Inserts for Cases
Depending on your requirements, you can choose from Pick and Pluck foam, full-foam inserts, water jet, die cut, or custom-molded interiors for added protection, organization, and presentation options.
When customizing shell cases with foam inserts, you'll work together with our design and manufacturing experts to ensure your case delivers the right level of shock absorption and protection for your needs. Our top-of-line facility is equipped with advanced equipment that allows us to create a final product that meets your needs for quality, budget, and performance.
Available in various sizes, colors, and materials, our custom foam inserts are specially designed to fit inside hardshell cases and provide optimal protection during harsh shipping and transport environments. The team at Deluxe Packaging is dedicated to delivering ideal safety conditions for the products you need to contain. Whether your products are oddly shaped, oversized, heavy, fragile, or valuable, we can deliver the custom foam solution you're looking for.
Types of Custom Cases We Carry
To meet your specific requirements, we custom-build cases for a wide variety of applications, including:
Electronics
Test and calibration instrumentation
Military equipment
Medical equipment
Telecommunications equipment
Light fixtures
And more
Let us customize your carrying cases, shipping cases, demo cases, sales cases, and presentation cases — whatever your case requirements may be, we can supply a solution. We also manufacture and distribute strap assemblies and other case-related accessories and products for added value and portability.
From the simplest to the most complex designs, our capabilities enable us to design a customized, cost-effective solution for every project. We manufacture our hardshell cases in-house with precision-cut or molded foam inserts, developing the ideal product that perfectly fits, protects, and organizes your sensitive equipment.
Easy Branding and Customization
At Deluxe Packaging, most of our product lines also offer color options, hardware and closure choices, and silk screen or hot stamp branding opportunities for maximum impact.If you require a custom-molded case, we can evaluate your needs and discuss the unique benefits of injection molding, blow molding, rotational molding, and thermoforming.
We'll help manufacture custom cases that accurately represent your brand and showcase your business. One of the main advantages of using shell cases is the ability to fit them with custom zipper pullers, logo plates, and other customized features that highlight your brand. If presentation is a crucial design element, we're here to give you what you need with custom cases that offer visual appeal along with superior product protection.
Custom Foam Inserts & Hard Sided Cases from Deluxe Packaging
If you require custom foam inserts and hardshell cases to protect and organize your sensitive equipment, look no further than the experts at Deluxe Packaging. With a variety of case types and foam options available, we can deliver the perfect solution to store even the most challenging devices and gear. For more information about our custom foam inserts and hard sided case capabilities, complete our request for information form or contact us today to speak with one of our experts.